Disability Discrimination Act
The DDA stipulates that from 1st October 2004 a disabled person cannot be restricted from gaining access to a site
to obtain goods or services. Landlords and service providers have to consider making reasonable adjustments
to their premises to overcome physical barriers to access for those who use wheelchairs, are blind or partially sighted,
deaf people, people with arthritis, people with long-term illnesses and also people with learning disabilities.
• General resident or employment facilities
Hands free proximity readers and tags- which allow controlled access to staff without the need to use a PIN or card
• Wheelchair users
Automated pedestrian doors- existing internal or external new swing or sliding doors.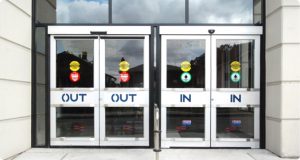 • Deaf or hard of hearing users
Hearing aid compatible entry phones.
• For blind or partially sighted users
large illuminated push buttons, Braille coded push buttons for audio or video entry phones.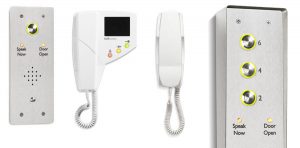 Door entry systems
Should be located on the latch side of the door with the activation pad located within 200mm of the door frame.
The entry system should be at a height of between 750- 1000mm from floor level.
Door Closers
For disabled people to have independent access through single or double swing doors, the opening force,
when measured at the leading edge of the door, should be not more than 30N from 0° (The door in the closed position)
to 30° open, and not more than 22.5N from 30° to 60° of the opening cycle.